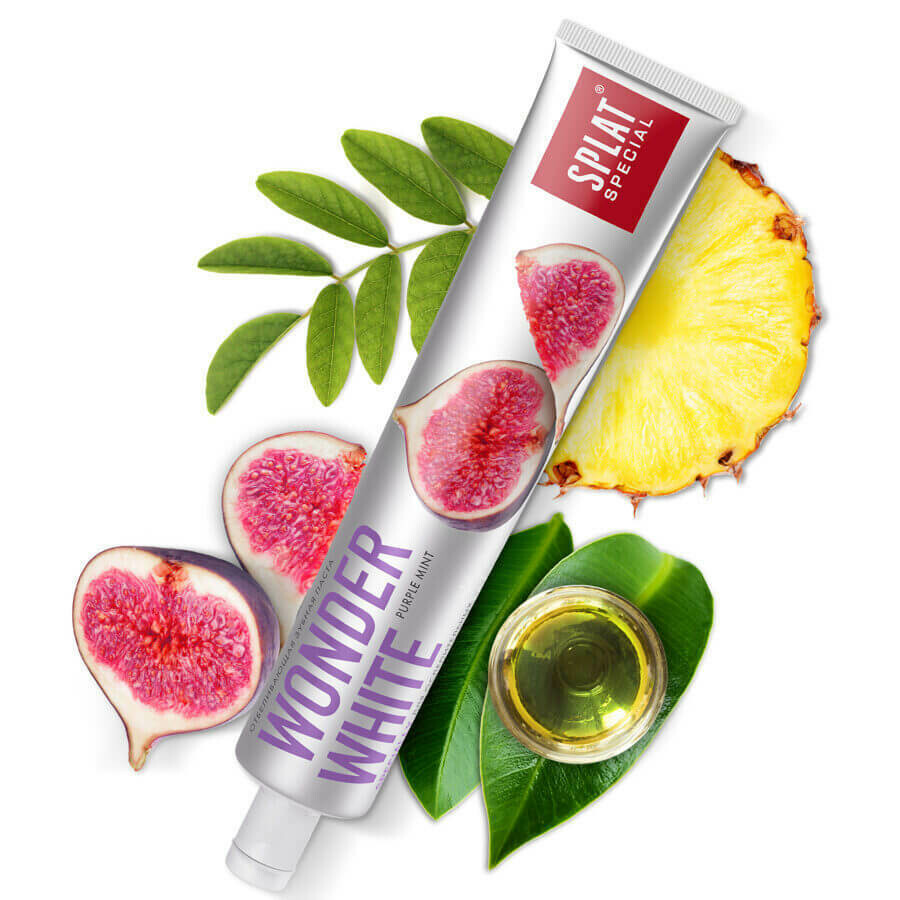 SPLAT toothpaste SPECIAL WONDER WHITE, 75 ml
Artikuls 00003
Product description
Toothpaste with 97.5% natural ingredients for a dazzling white smile and tooth protection against caries.
Toothpaste does not contain SLES/SLS, PEG, parabens, triclosan, chlorhexidine, saccharin, synthetic flavorings, fluorine.
Toothpaste contains the effective component ficin - it is a unique proteolytic enzyme obtained from fig milk juice. Its peculiarity lies in its broad specificity for proteins, as it can break down any protein, not just those containing certain amino acids - not every proteolytic enzyme has this effect. Ficin is a plant enzyme used in cosmetics and dentistry.
Enzīmu balināšana ir drošs zobu kopšanas veids. Krāsojošās vielas no apkārtējās vides galvenokārt uzkrājas pelikulā un dažādu klašu fermenti var iznīcināt šo plēvi un samazināt krāsojuma pakāpi - tie sadala aplikumu sastāvdaļās, tādējādi ļaujot to efektīvāk notīrīt no emaljas virsmas. Fosfātiem pastas sastāvā ir spēja mijiedarboties ar zobu emalju, pie tās faktiski pielīpot un tādēļ novēršot emaljas atkārtotu iekrāsošanos un zobakmens veidošanos. Savukārt inovatīvā Luctatol® sistēma satur Japānas lakricu koku ekstraktu un piena fermentu kombināciju, kas ir īpaši iedarbīga pret kariogēnām baktērijām Streptococcus mutans, novēršot mīkstā aplikuma veidošanos.
Toothpaste also contains vitamin E, licorice extract and basil essential oil, which prevents the formation of caries and provides anti-inflammatory effect. Clinically proven efficacy in 4 weeks of use!

* If you want to use Omniva parcel machine 📦, please add the name of the parcel machine or its address in the field above.

You can find the locations of Omniva parcel machines here
Saglabāt šo produktu vēlākam